The Heirs of Tullio Mazzotti,
professionally known as
Tullio d'Albisola
Esa Mazzotti was born on April 21, 1932 in Albisola Superiore (SV, Italy). She inherited her uncle Tullio's strong artistic personality, that have made her one of the protagonists of Albissola's culture and art history.
Since she was as a child she attended the family pottery in Albissola Marina, having the opportunity to live in close contact with numerous artists who worked and made ceramic works there, including: Fontana, Sassu, Fabbri, Jorn, Manzoni and others.
After the war she dedicated herself to pottery making, creating, among other things, ceramic jewelry signed as "Esa d'Albisola".
She followed her uncle Tullio d'Albisola in his travels including the trip to Vallauris during which she met Pablo Picasso, who wore her ceramic earrings as a joke.
In 1963 she began creating gold jewelry that she also exposed in various exhibitions.
In 1965 she created the "Rosa d'Oro" (Golden Rose), starting the conception and organization of the homonymous event that would award, in its first edition, Tullio d'Albisola and then Lucio Fontana and Agenore Fabbri.
On July 29, 1967 she exposed her jewelry at the Bar Testa Gallery in Albissola Marina. Salvatore Quasimodo took part in the opening of the exhibition and wrote the introduction to it.
After Tullio's death, in 1971, she devoted herself to the helm of the family business and in 1985 she was joined in the activity by her son Giovanni Rossello.
In 1980 she collaborated with Danilo Presotto in classifying Tullio's letters, photographs and documents, thus creating Tullio d'Albisola's document archive. Since 1981 four volumes entitled "Quaderni di Tullio d'Albisola", by Danilo Presotto, have been published. They collect letters from artists and friends, received and kept by Tullio.
Currently, after Esa d'Albisola's demise occurred in January 2005, her son Giovanni Rossello is heir to the copyrights of Tullio d'Albisola's works and continues the artistic pottery production activity, with the Ceramiche Mazzotti firm.
CLICK TO ZOOM THE IMAGES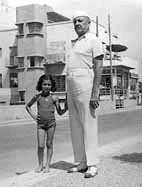 Esa Mazzotti as a child and Filippo Tommaso Marinetti in the '30s, in front of Casa Mazzotti.


Esa Mazzotti and Pablo Picasso in Vallauris.


Esa Mazzotti and Salvatore Quasimodo at the Testa Gallery in Albissola.


Giovanni Rossello as a child with uncle Tullio d'Albisola.


Esa Mazzotti and her son Giovanni Rossello with Salvatore Quasimodo.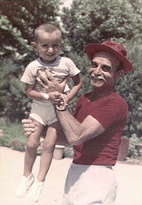 Lucio Fontana holding Giovanni Rossello in his arms, around 1960.