"Le Futurisme"
Futurism was founded by Filippo Tommaso Marinetti with the first of a long series of "Manifestos", which was published in the French daily newspaper Le Figaro on 20 February 1909. The paper was entitled "Le Futurisme". The key ideas of the Movement, which had to make a clean sweep of the past and of the traditional forms of expression, are based on speed and mechanical civilization, as an expression of modern life dynamism. Soon the movement spread to many fields, from literature to arts and politics, becoming synonymous with avant-garde. The concept of artistic avant-garde included some aspects such as activism, the will to break with the past, the idea of artistic revolution and the use of the Manifesto, a key instrument of the Movement. Many writers, architects, musicians, painters and sculptors joined the Futurist Movement.
Tullio d'Albisola
and the Futurist Movement
After World War I, a second futurist generation brought forward the innovative ideas of the Movement. Tullio d'Albisola - pseudonym of Tullio Mazzotti, coined by Marinetti himself - had the merit of introducing ceramic materials into the Futurist Art Movement, becoming a torchbearer in the years when Albissola ceramic manufacture was exclusively produced in an artisanal way.
The Futurist Artistic Pottery
«Born to a ceramist family, I continue in my art with great fervor and immense passion, marking an entirely new direction in Italian ceramic art. Nothing that could even remotely recall the ancient, antique or prehistoric ceramics. I want to make ceramics that overthrow tradition. Polycentric, antimitative, mechanical forms. Futurist, aggressive, dazzling and bright layers of color. Perfect technique, carefully executed, made with poor local Italian materials.»
This is Tullio's "Manifesto" containing his idea of futurist artistic pottery, in a letter he wrote on February 5, 1930 to the Italian Artists' Register in Milan. Tullio exposed his creations in various exhibitions in Italy and abroad, achieving considerable success with audiences and critics.
Casa Mazzotti and Futurism
Casa Mazzotti, Tullio's house-cum-workshop-cum-showroom, designed by Futurist Architect Nicolaj Diulgheroff, currently headquarters of the Ceramiche Mazzotti firm and Tullio d'Albisola's document archive, is the only example of futurist building remained intact until today. It was the hotbed of avant-garde techniques that were tried out by many world famous artists that modelled ceramic material with unusual shapes and colors. In the years of his involvement with Futurism, Tullio realized ceramics, sculptures, aeropaintings and the famous "Litolatte", tin-lithographed books with texts of his own and from Filippo Tommaso Marinetti. The illustrations of the book "L'Anguria Lirica" were made by Bruno Munari.
Pictures by Fabio Fidone ©
CLICK TO ZOOM THE IMAGES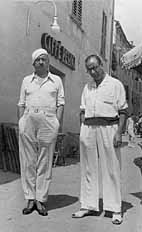 Filippo Tommaso Marinetti and Tullio Mazzotti in Albissola.


1929, October. "Thirty-three Futurists" Exhibition, at the Pesaro Gallery in Milan.


1930, October. Futurist Exhibition: Architect Sant'Elia and 22 Futurist Painters" at the Pesaro Gallery in Milan.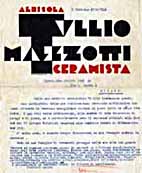 1930, February. 5. Tullio's letter to the Italian Artists' Register.